Free Excel Leave Tracker Template for 2022
Tracking leaves with a spreadsheet has never been this easy, thanks to our Free Excel Leave Tracker Template for 2022.
If tracking your team's time-off with Leave Management Excel Template for 2022 is getting messy, time-consuming, or tedious, listen up!
We get it. Manually tracking your team's time-off through our Leave Management Excel Template for 2022 can be messy, stressful, and time-consuming to say the least. However, if you're looking for a solution to this problem, look no further. Here's your shot at making leave tracking through Excel spreadsheets a thing of the past. All thanks to Vacation Tracker!
Keeping track of your team's vacation days should be as easy as 1-2-3. And that's exactly what we aim to do with our tool. Our software is a simple automated solution to this problem and is an easy way to manage your employee's vacation time with just a few simple clicks.
Thanks to our leave management system, you can create and manage multiple locations, set multiple leave policies, notify your team of all upcoming leaves, and much more from the comfort of your favorite collaboration tool.
Our Admin Dashboard is your one-stop shop for managing everything
The Administrator Dashboard gives you a clear overview of your entire organization's scheduled leaves. The Vacation Tracker Dashboard allows Administrators to easily approve or deny leave requests, create leave types, manage notifications, and customize all their leave-related settings.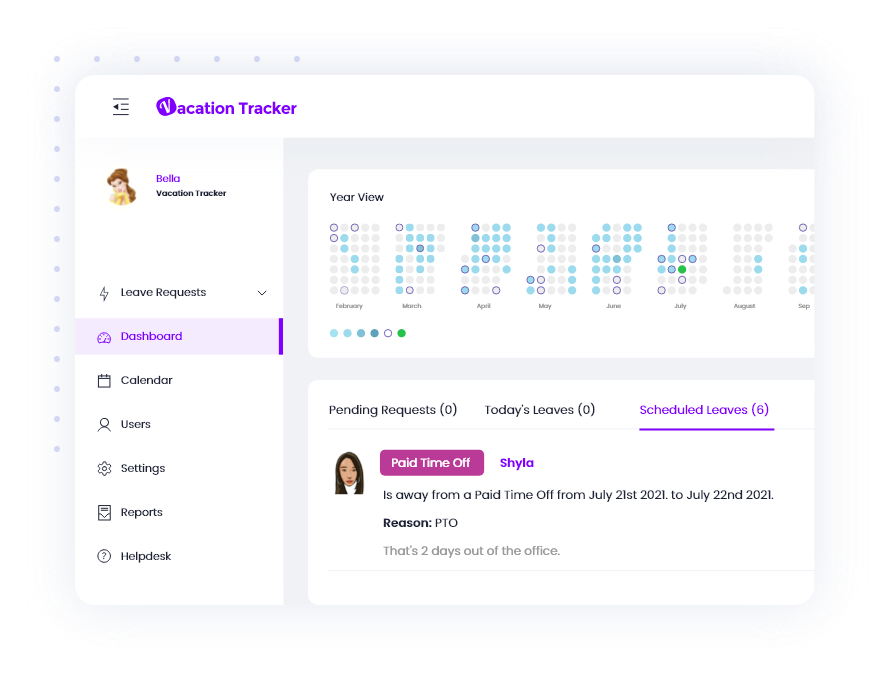 Get your leave approval in 3, 2, 1...
With Vacation Tracker, you can say goodbye to waiting for hours to get a response from HR. Simply use the Vacation Tracker bot or Dashboard to instantly request a half, full or multi-day leave through your preferred platform -- Slack, Google Workspace or Microsoft Teams. Once your leave request is submitted, an Administrator or Approver will deny or approve the leave request. And, you'll get notified instantly.
Stay informed with our automated notifications
Setting up notifications in Vacation Tracker will keep your entire team or department informed of all upcoming absences. You can choose the time you'd like the notification to get delivered, along with the Slack or Microsoft Teams channel you want it to appear on. Google Workspace users can schedule notifications to multiple email addresses. Lastly, Administrators can configure daily or weekly notifications to ensure everyone in your team stays in the loop regarding upcoming leaves.
Frequently Asked Questions
Do you have some questions ? Find answers in our FAQ.
How long does the free trial last?
Your free Vacation Tracker trial period lasts for 7 days.
Which features are included in the free trial?
During your trial period, you'll get access to all of our features. You will gain access to the Vacation Tracker dashboard as well, where you can keep track of absolutely everything.
Do I have to enter my credit card during the free trial?
No credit card is required to start your free trial period.
Do you offer discounts to non profit organizations?
If you are interested to learn about our discounts, please contact us at hello@vacationtracker.io or start a chat with us.
How can I contact Vacation Tracker support?
We're proud to say that we will be with you every step of the way. Simply contact us at hello@vacationtracker.io and we will be more than happy to help.
Subscribe to our Newsletter
Subscribe to our Newsletter to get our latest updates.