Looking for a Holiday Tracker in Excel template?
We've got you covered. Our Holiday Tracker in Excel template is here to help you track your team's holidays all from a single spreadsheet -- so you can work smarter, not harder.
If you think you can do better than a Holiday Tracker in Excel, you've gotta try our leave tracking tool.
Let's face it: tracking your team's holidays through our Holiday Tracker in Excel template might look easy at first, but is actually really time-consuming, inefficient, and stressful. So, spare yourself from the hassle of tracking leaves manually and do it from a reliable tool like Vacation Tracker. Automate your leave tracking efforts at the touch of a button.
Request and approve leaves from the comfort of your favorite team collaboration tool — whether that's Slack, Microsoft Teams, or Google Workspace. Thanks to our leave management system, you can create and manage multiple locations, set multiple leave policies, notify your team of all upcoming leaves, and much more in just a few clicks instead of back-and-forth emails or grueling paperwork.
Our Admin Dashboard is your one-stop shop for managing everything
The Administrator Dashboard gives you a clear overview of your entire organization's scheduled leaves. The Vacation Tracker Dashboard allows Administrators to easily approve or deny leave requests, create leave types, manage notifications, and customize all their leave-related settings.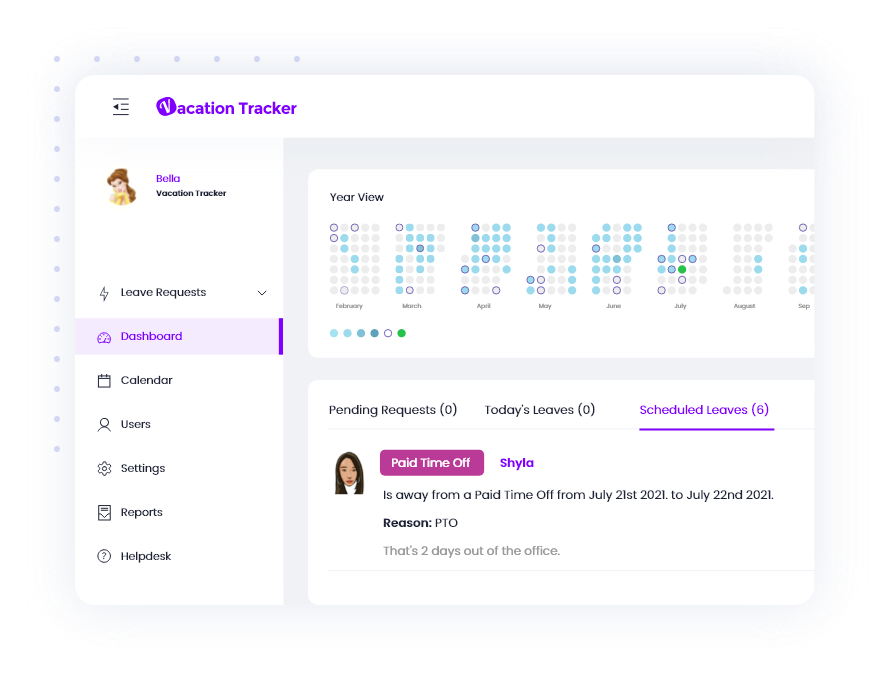 Lightning fast leave request and approval
Thanks to our leave management software, you won't have to wait for hours to get a response from HR. You can use the Vacation Tracker bot or Dashboard to instantly request a half, full or multi-day leave through Slack, Google Workspace or Microsoft Teams. Once the leave request is submitted, an Administrator or Approver will deny or approve the leave request, and you'll get notified instantly.
Stay informed on all leaves with automated notifications
Setting up notifications in Vacation Tracker is as simple as 1-2-3. You can adjust the notification time to your liking, along with the Slack or Microsoft Teams channel you want it to appear on. Google Workspace users can schedule notifications to multiple email addresses. Lastly, Administrators can configure daily or weekly notifications to ensure everyone in your team stays on track about scheduled leaves.
Frequently Asked Questions
Do you have some questions ? Find answers in our FAQ.
How long does the free trial last?
Your free Vacation Tracker trial period lasts for 7 days.
Which features are included in the free trial?
During your trial period, you'll get access to all of our features. You will gain access to the Vacation Tracker dashboard as well, where you can keep track of absolutely everything.
Do I have to enter my credit card during the free trial?
No credit card is required to start your free trial period.
Do you offer discounts to non profit organizations?
If you are interested to learn about our discounts, please contact us at hello@vacationtracker.io or start a chat with us.
How can I contact Vacation Tracker support?
We're proud to say that we will be with you every step of the way. Simply contact us at hello@vacationtracker.io and we will be more than happy to help.
Subscribe to our Newsletter
Subscribe to our Newsletter to get our latest updates.