Vacation Calendar & Leave Tracking Features
Manage your requests and receive vacation reminders about your team's absences directly in Slack.
Perfect Integration
Taking notes about vacation requests in a spreadsheet is a thing of the past. With Vacation Tracker it has never been easier to manage your employees' time off requests.
Easy to submit and approve requests
It's really easy for a team member to request a vacation, day off or a half-day with Vacation Tracker. Simply type in "/vacation" in any channel in Slack and our chatbot will help your team plan their next vacation or day off. Your team can also request sick days, conference days and many other types of out of office requests.
Whenever your team members request time off, your team administrators receive a notification in Slack which allows them to approve or deny vacations. They can also click to go to the dashboard to get an overview of all upcoming vacations before making a decision.
Vacations, Days Off or Half-Days
With Vacation Tracker it's never been easier to request vacations, days off or half-days. To request any type of time off, all your team members have to do is simply type "/vacation" in any channel in Slack, and they will be presented with various options. After they choose what type of time off they're requesting, all they have to do it selected the dates, or hours if they're taking a half-day off, and confirm.
Create Your Own Leave Types
Administrators can easily configure your organization's leave types through the "Settings" page. The default leave type is "Paid Time Off". All other leave types ranging from Sick Day, Conference, Working Remotely, PTO, Paternity Leave, Jury Duty and more, can be configured by the administrators. And you can have up to 24 completely customizable leave types besides PTO.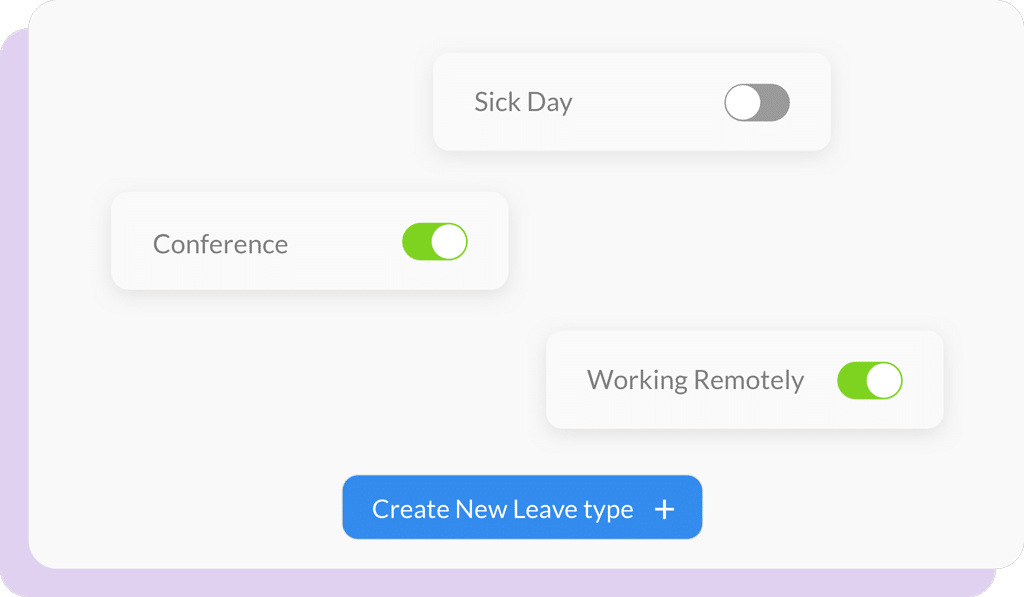 If you have several offices in different locations, setting up your teams in Vacation Tracker is a snap. You can even have different administrators for each office to approve time off for their teams and set up holidays globally or for each team separately. You can also filter the calendar and dashboard by teams giving you only the information specific to that team.
Daily/Weekly Notifications
Your Vacation Tracker chatbot will send managers a daily summary of all the pending requests from your team. And once approved, managers and team members will receive reminders directly in Slack about upcoming vacations, days off and holidays.
You'll never have to worry about coming into the office, and finding out that the person you were counting on isn't in today. The Vacation Tracker chatbot will be sure to let you know on time who is out of the office which day. You can configure weekly notifications, daily notifications or both depending on your organization's needs.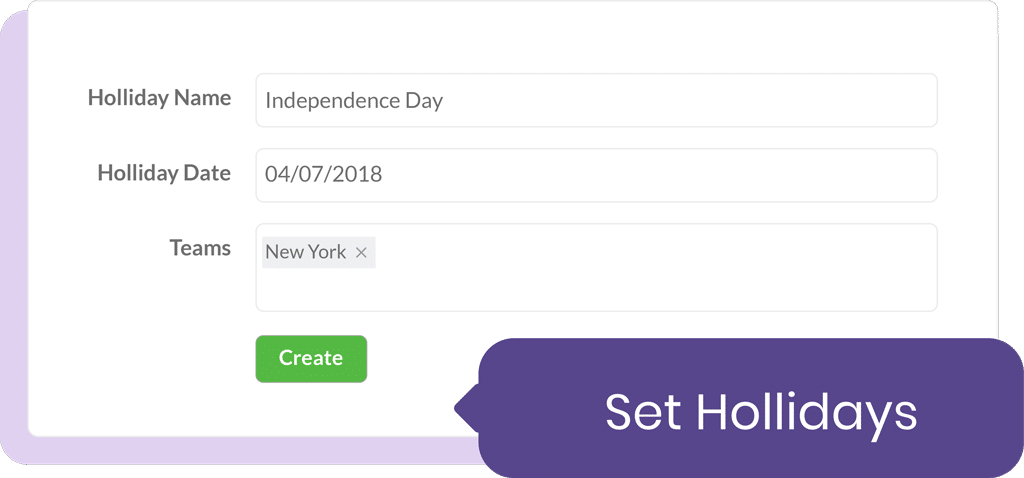 Set Your Team's Holidays Quickly
Administrators can easily set up holidays for each team, whether they're in multiple locations or not. The holidays can be set globally or for each team individually.
Our Vacation Tracker bot will make sure you're notified each time a holiday is coming up so you know who will be out of the office.
Export Reports from Vacation Tracker as a CSV file
As an administrator, you can generate and export reliable reports as CSV files.
Through the administrator dashboard, you can generate them to fit your company's needs, choose the time period you want and export. It has never been easier.
Awesome Dashboard for Administrators
Every message to managers from our chatbot has an embedded link to the dashboard. The dashboard allows managers to easily approve or deny requests, manage notifications, and have a daily, monthly and yearly overview of the team's vacations and days off.
You can access the administrator dashboard by going to https://app.vacationtracker.io/signup or by clicking "Open Dashboard" in Slack. In your dashboard, you can also manually set the number of days off for each team member, set multiple teams, check history, set vacations, set-up calendar feeds, and export your data into a CSV file.
After you add other administrators for Vacation Tracker, they will also be able to access the dashboard and approve requests even if they are not Slack administrators.
Need to synchronize your vacation information with Google Calendar, Outlook or iCal? No problem, Vacation Tracker allows you to pull information directly into your calendar of choice so that you are aware if somebody is on vacation when you try to book a meeting with them.
Visit our FAQ page for more information.
If you are a team of 50 people, but only need a few to use Vacation Tracker, you can choose specific team members and enable them to use the software. You can add/remove team members during the onboarding process or through the administrator dashboard. To add or remove Slack users from a Vacation Tracker organization, go to the "Team Members" page and select the team members you want to add/remove.
Active users are the ones currently using Vacation Tracker. There are two types of active users: Team members & Vacation Tracker admins. Please note that Slack admins are not required to be Vacation Tracker admins as well. Inactive users are the ones you haven't imported during the Vacation Tracker signup flow, or if you have removed them manually. This can also be changed on each team member's profile or in "Team Members" page through the administrator's dashboard.
Does your fiscal year have a different start date?
Administrators can adjust vacation period reset dates, depending on the company's vacation policy. There are two ways to change the start/year-end date. During the onboarding process, and in the "Settings" page in the administrator dashboard.
When a team member requests time off, we'll be sure to notify you how many remaining days off they have until the end of the fiscal year you've set for your company.
As an administrator, you can set a custom workweek for your entire company, or for individual employees. Whether you work 7 days per week or have part-time workers that only work 3 days per week, you can easily manage their leave through Vacation Tracker and accurately roadmap future work.
There are three ways to customize your workweek.
1. During the signup flow
2. Through the Settings page (Administrator dashboard)
To set up a workweek for your entire organization, go to Settings > General and choose the days that correspond to your working days. Please note that doing this through settings will apply these working days to all your team members.
3. Through the Employee Profile
If you don't want to make changes to the workweek of your entire organization, you always have the option to change it for individuals only. Do you have part-time workers or people who work on weekends? No problem, you can adjust their working days directly through the employee profile page.
Subscribe to our Newsletter
Subscribe to our Newsletter to get our latest updates.